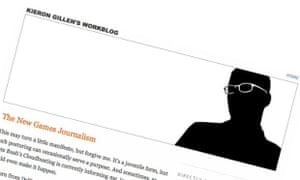 Ten years ago this week, well-known PC Gamer writer Kieron Gillen got home from the pub and decided he wanted to change games journalism forever. At 2.04am in the morning on March 23, he posted on to his website, The New Games Journalism manifesto, a heartfelt call for games writing to change, to become more subjective, and to convey the experience of actually being in a game world.
The manifesto was much discussed and encouraged a new way of thinking about and even playing games. And Gillen is now a writer at Marvel, penning excellent runs of X-Men and Thor, before moving on to his superhero teen-angst masterwork, Young Avengers.
So what happened to young Gillen on that fateful night at the Delfter Krug bar in Bath 10 years ago? Who was with him? And how did it shape his approach to writing over the next decade?
To find out, we'll be reuniting Kieron with the two journalists he was talking to that night at the pub, ex-PC Gamer colleague Tim Edwards and Jon Hicks, now editor of the Official Xbox Magazine. In conversation with the Guardian games editor, Keith Stuart (who was probably in the bar as well), the trio will attempt to recall the mood of that modest night down the boozer, as well as assessing the legacy of NGJ and the way writing about games has changed in the following decade.
Afterwards, we'll speak to the newly announced Kotaku UK editor, Keza MacDonald, and well-known games video maker Matt Lees about the current generation of games writers, journalists and YouTube stars.
The event will take place at The Yorkshire Grey pub in London, on 26 March. Tickets are available for £5 (plus booking fee), which includes one free drink. The event is for over-18s only.